I like the tousled sexy people
My trainer, John, is married to a gorgeous ex-model who knows how to cook, which might be why John talks more about food than almost anyone I've ever met. "She made a roast chicken stuffed with lots of garlic last night, and it was awesome," he told me. "So I'm rather pungent today."
He was. He reeked of garlic. It wafted from his pores and through the air to where I stood about two feet away. Weight machines clanked all around. "It was so good," he continued, "that I said, 'Screw my clients tomorrow!' and just kept eating it …So, uh, sorry." Throughout the workout he was careful to stand a certain distance from me. Every now and then he would ask, "So can you smell me from here?"
To which I would reply, "Yes."
2
I ate at Gjelina last night, a hip, dimly lit restaurant in Venice with uncomfortable chairs. I like the food so much I don't mind the chairs. What I did mind was the drive from Bel Air, where I hit stop-and-go traffic on the freeway. I love to drive, but traffic makes me bitter. Once I arrived at Abbot Kinney — the stretch of boutiques, restaurants, furniture and antique shops that Venice is known for — I couldn't find parking. This made me more bitter. In Beverly Hills, there's always a valet. The Kinko's on Wilshire has a valet. Venice appears to ascribe to a more democratic, egalitarian ethos which means that everybody parks their own damn car and walks several blocks to their destination.
Dude was meeting with a stunning 49-year-old lobbyist from Washington and a younger, fit, curly-haired guy she thought would be a good match for Dude's nonprofit organization. I hit it off with the curly-haired guy, who told me about his retreat to "the redneck riviera" where he tried his hand at writing novels. It didn't go so well. We talked about Michael Chabon's latest (I didn't even know it was out) and the art scene in Manhattan (moving out to Brooklyn Heights) and in San Francisco and Oakland (not so much).
The lobbyist turned out to be the ex-wife of a Congressman and mentioned how, when news of their divorce went public, it got written up in the Washington Post and New York Times. "That's impressive," I said. "My divorce made it all the way to Gawker." I said this because it cracked me up (on the inside), but she looked nonplussed.
3
Venice folk, at a glance, tend to be cooler and sexier than Beverly Hills people; I'm constantly doing double-takes at the gorgeousness around me.* Maybe it's because they appreciate the art of being tousled. Once when we were having brunch in a Bev Hills cafe, Dude, who is a hardcore Westsider (Santa Monica and Venice), looked around at the crowd, the locals and tourists, and remarked on just how groomed everybody was. He himself was rumpled and unshaven (and adorable).
I didn't really pick up on what he meant until my first brunch at a favorite place in Venice. I was the most styled and put-together person in the room and consequently felt like a dork. But the kicked-back feel of Venice is something I relate to, and it's where I had a minor epiphany. I'd taken so much criticism from my ex for not looking and being perfect enough — for not keeping the house perfect enough** — that I had accepted something as inherently wrong with me, and went through my days with a certain amount of tension.*** But in Venice, I realized — wait a minute — people can make being relaxed a lifestyle choice, and flock to environments where they would rather hang out and connect instead of pursuing the superficial perfections that in the long run don't mean anything anyway****.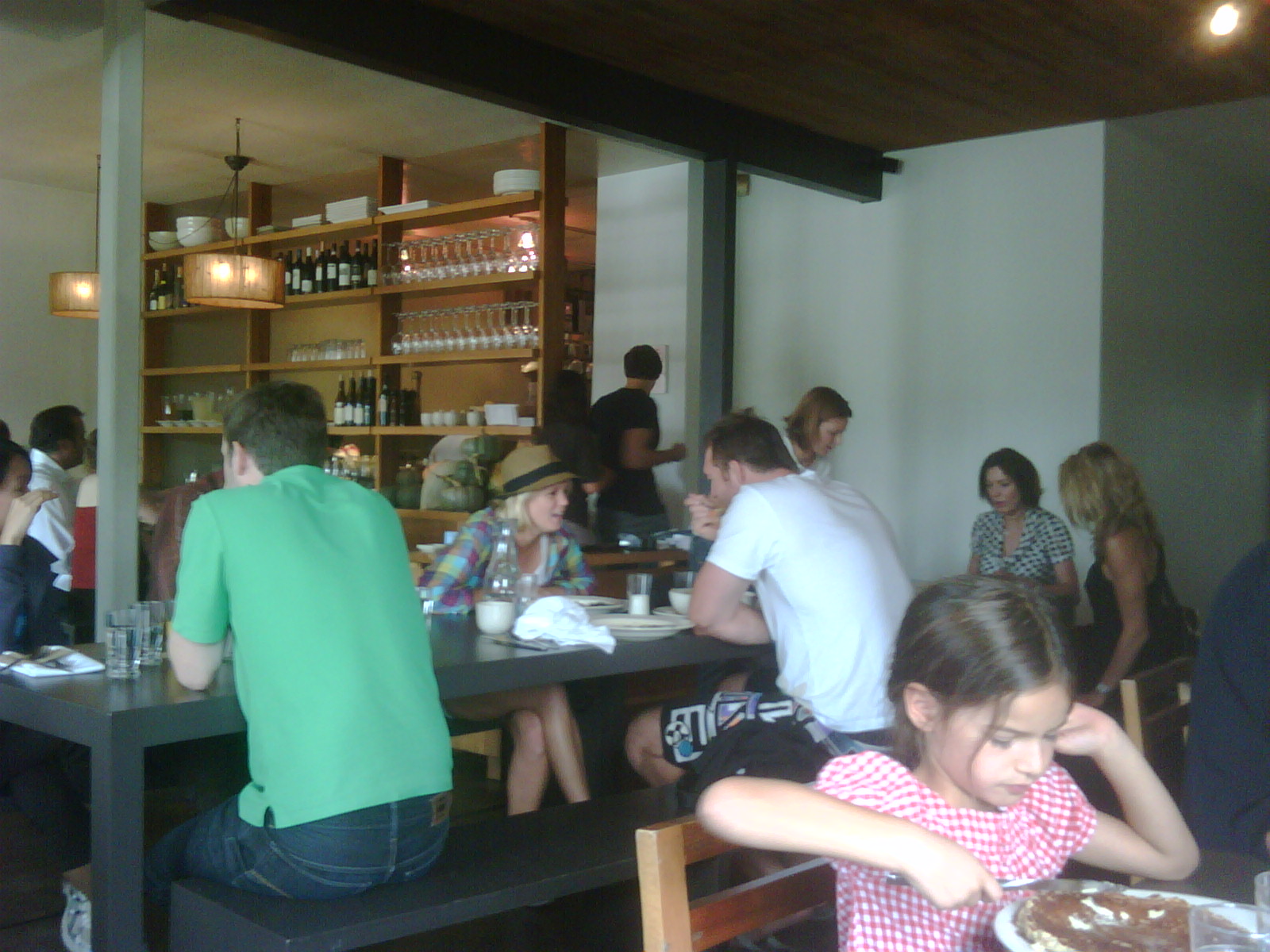 This is not exactly enlightenment on the level of the Buddha, but pleasant nonetheless.
Still. I believe in valet parking.
* It's also where Dude and I once ran into Cameron Diaz and some actor named Jason who'd played Samantha's young love interest on Sex and the City. Dude knew them both, so we stopped to talk, and I thought Cameron was stunning (I'd often heard that she's 'not so pretty' in person). I also noted — and Dude later mentioned the same thing — that Cameron and Jason seemed uneasy and self-conscious, like they didn't want to be seen together. But we could have been projecting.
**…rolling my eyes now…
*** I know this because, since the separation, people have remarked on how much more relaxed I am. I honestly hadn't known I'd been so unrelaxed, even though I could feel the difference.
**** It's not like they're going to write on your tombstone: SHE HAD PERFECT HAIR — AND NO CELLULITE!!! Although the latter is a magnificent accomplishment.