Tyler Durden's Rules For Writing In The Zone, part 1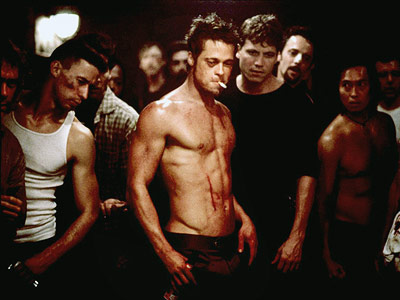 "How much can you know about yourself, you've never been in a fight? I don't wanna die without any scars." (all quotes in bold from the character Tyler Durden in the movie FIGHT CLUB)
We know 'the zone' as a state of higher mental consciousness in which we focus so completely on the task at hand that we become one with it. The task itself flows as effortlessly as water.
I think of this as "deep writing" (taking the term from Eric Maisel's book of the same name). People in the zone are relaxed, calm, and alert. This is when your brain shifts down into the alpha and theta brain waves that release creativity and tap into the treasure chest of the subconscious, filled with the knowledge, skill and benefits of experience that we don't even know we have.
Steven Pressfield in his book THE WAR OF ART talks about the battles we all must undergo with the enemy he names Resistance (defined as anything that keeps you from writing and mired in creative procrastination).
As Hugh MacLeod put it, we must "fight like hell" to get in the zone and stay in the zone so we can produce our best work.
Observes Pressfield:
The warrior and the artist live by the same code of necessity, which dictates that the battle must be fought anew every day.
It's a writer's private Fight Club and it "exists only when Fight Club begins and ends when Fight Club ends."
THE RULES
"No fear. No distractions. The ability to let that which does not matter truly slide."
It appears to take around 15-20 minutes of working to warm ourselves up to maximum productivity and enter the zone.
We can get knocked out of it as quickly as a phone call or a knock on the door. Then it takes another 15-20 min to get back into the zone…and if we're too tired, stressed, procrastinating, etc., it can be difficult if not impossible to climb into the zone at all.
It's our responsibility to create a writing environment that enables us to take our writing seriously.
To develop the mental toughness that can withstand interruptions if not screen them out altogether.
To decide what's important enough to spend our time on – and just as importantly, what isn't.
In his essay "Relax…Work on the Difficult" Seth Godin points out that our "culture of overwork" doesn't actually make us any happier or more successful. It just ensures that people keep working hard at the wrong things.
The "ability to let that which does not matter truly slide" means developing the ability – and the balls – to recognize the right things from the time-wasting things and eliminate the time-wasting things (also known as the 80/20 rule, where 80 percent of your results come from 20 percent of your efforts).
If you're busily engaged in the wrong things, you won't be writing – or writing well.
"You do not talk about Fight Club."
It's also our responsibility to show up, shut up and start working on schedule – or even to have a writing schedule – so that writing ourselves into the zone becomes part of our daily or near-daily routine.
I give you more of the wisdom of Steven Pressfield (just substitute "deep writing" or "writing in the zone" for Pressfield's references to the inspired-by-the-gods or mystical dimension of writing).
A pro views her work as craft not art. Not because she believes art is devoid of a mystical dimension. On the contrary. She understands that all creative endeavor is holy, but she doesn't dwell on it.
She knows if she thinks about that too much it will paralyze her.
So she concentrates on technique. The professional masters how, and leaves what and why to the gods…
The professional is acutely aware of the intangibles that go into inspiration. Out of respect for them she lets them work. She grants them their sphere while she concentrates on hers.
The sign of the amateur is overglorification of and preoccupation with the mystery.
The professional shuts up. She doesn't talk about it. She does her work.
–more tomorrow–