how to hook me with your author blog and make me follow you (and buy your books) with the devotion of a dachshund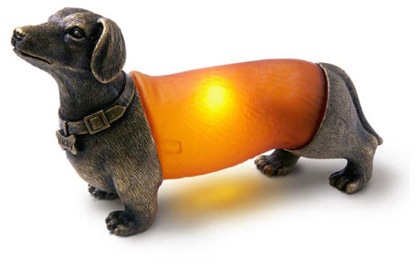 There's an article in the latest issue of Writer's Digest that takes you through the "7 steps of starting an author blog". It's a helpful article and worth reading.
The problem with these articles aimed at writers — particularly fiction writers — particularly unpublished fiction writers who don't have a following beyond their relatives (and maybe a few supportive friends) — is that they don't really explain the point of having an author blog in the first place.
Or rather: the point of a blog is to center your author platform, attract readers, convert those readers into fans, and sell books. Sounds simple enough, in theory, but it's easier said than done.
With an author blog, you want to showcase your work, your style, but at the same time, blogging is not about craft. It has nothing to do with craft (unless 'craft' happens to be what your blog is about). And if nobody cares (yet) about your work offline, what's going to make them care about your work online?
Getting people to want to read you, instead of a zillion other things they could be reading (or doing), is hard. Attracting — and keeping — someone's attention is both an honor and a privilege. It's not something to be gone after lightly.
And there has to be something in it for them.
When people pick up a novel, they're looking for a certain kind of reading experience. Emotion. Escapism. Transport. Cool fictional people to get to know. Insight into the human condition. A glimpse into the mind of a writer they admire. Etcetera.
When they're online, they're looking for a different kind of reading experience. Diversion, sure. Entertainment, awesome. Connection, even better. But they're generally looking for stuff they can actually use to solve a problem or improve a skill. Stuff that will make their life better in some way.
The idea behind the promotional aspect of author blogs is content marketing. To quote Copyblogger:
Content Marketing is a broad term that relates to creating and freely sharing informative content as a means of converting prospects into customers and customers into repeat buyers. The primary goal is to obtain opt-in permission to deliver content via email or other medium over time. Repeated and regular exposure builds a relevant relationship that provides multiple opportunities for conversion, rather than a "one-shot" all of nothing sales approach.
In other words, give people cool information that they can use. Do this consistently over time, and they'll keep coming back to you. That way, they get familiar with you. Your blog becomes part of their routine. They start to trust that you know what you're talking about. Ultimately (if you're good, or lucky, or both) they trust you, and like you, enough to buy whatever it is that you want to sell them.
And as Chris Brogan repeatedly points out, it's good to have relationships in place before the sale.
(And this is what editors want. They want a great manuscript first and foremost, but they also want you to have some people in place who might actually buy the damn thing.)
Nonfiction writers have an advantage. Nonfiction has always been easier to promote because it has the kind of content you can discuss with people who haven't read the book. You can educate them on your material and draw new readers that way.
But fiction?
If you're a new fiction writer starting a blog, it's worth asking yourself: What can I give people that will make them give a damn? What can I do for them? How can I help them?
People fall in love with certain novelists because of their characters, their plots, and voice. 'Voice' is kind of tricky to define, although like art — or porn — you know it when you see it. Maybe you're a whiz with high-concept plotting, and your astute penetration into the human soul enables you to create the most memorable characters in the history of the universe, but it's hard to demonstrate either of these in a blog. (Besides, if that's what I'm looking for, I won't be online. I'll be off in the corner with a book.)
But voice. Now that's something you can bring.
I follow most blogs for their content — for the information they give me — but there are also blogs I read for the sheer delight that I take in their voice (WHITE HOT TRUTH by Danielle LaPorte comes to mind. As does CLEAVAGE by Kelly Diels.) These voices are distinctive — you can recognize them from across the room — and they're fun. And for whatever personal reason, they resonate with me.
These writers deliver cool content in a cool voice.
A successful author blog, in my mind, straddles the worlds of fiction-writing and blogging by offering cool, usable content delivered in a distinctive voice.
Attract me with your content, hook me with your voice, and I'll pretty much follow you anywhere.
Which brings me to my favorite definition of 'author brand', delivered by the whipsmart (and young!) Ben Casanocha
someone for whom you read everything they write no matter the topic or outlet
And as he observes: "the web makes it infinitely easier to both establish a personal brand and follow one."
Note that he said 'easier'. He didn't say 'easy'.
If it was easy, then we'd all be A-list bloggers and bestselling novelists. And where's the fun in that?
(Who are the voices, the author brands, that you would follow anywhere?)