a writer's starter guide to twitter (or: everything I wish someone had told me when I first started using twitter)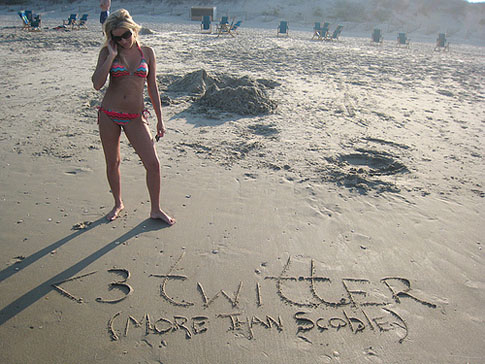 Publishing is changing. "It's not an evolution," Jane Friedman commented recently, "but a revolution…And it's not going back."
Part of that revolution involves the still-evolving notion of author platform. A key part of any author's platform is Twitter. It forms what I consider the Golden Triangle of blog/facebook/twitter that forms the heart and home of your online presence.
You find writers all over Twitter. It's not just about self-promotion. Whether you're 'following' the tweets of agents, editors, or writers in your genre (and other genres), it's a way to connect with cool people, keep up with the industry, seek advice, participate in writing-related #chats and learn about writing resources, conferences, literary magazines, and just about anything else you can imagine (and maybe a few things you can't).
But Twitter is a strange and often bewildering country. Here's a travel guide.
FIRST STEPS
Open an account. Choose an easy-to-remember username that doesn't have a hyphen in it. Those things are annoying when you're typing on your cell phone, and it makes people less likely to address you directly. It also implies that you came to the game too late to get that username without a hyphen, which is no big deal but takes off coolness points.
Walk through the steps that let you find out which of your contacts are already on Twitter. Follow them. Some of them will follow you back.
Make sure you post a profile photo. If you don't have a photo, people will be less likely to follow you or take you seriously. In the minds of many, no photo = clueless dilettante who won't be around very long.
Get yourself a cool Twitter background. Through going to the extra effort of installing one of those (which is easy), you're signaling, again, that you're serious. Generic twitter backgrounds are easy to spot, and don't say anything about who you are as a person. Again, coolness points.
Before you dive in, spend some time getting acclimatized. Look around. Listen. Get to know the culture.
Follow some of the big guns – people regarded as top influencers on Twitter – because they're interesting and also because they can teach you through example how to tweet effectively. Here are some of my favorites in the world of publishing/writing/blogging:
@janefriedman
@colleenlindsay
@michaelhyatt
@thecreativepenn
@rachellegardener
@chrisbrogan
@kellydiels
@daniellelaporte
@rachelresnick
@communicatrix
GETTING PEOPLE TO FOLLOW YOU
The best way to get someone to follow you is simply to follow them, and to be engaging and interesting; a lot of people will follow you back automatically, or at least check out your tweetstream to see if you're worth their time and attention.
So before you start following people like crazy, build up a solid tweetstream (and by tweetstream I mean your profile page that lists all your recent tweets), so people have something to look through when they click on your name. Your tweetstream says a lot about who you are, what you stand for, and how (or if) you play with others, so fashion it with care. Always think before you tweet.
DIFFERENT KINDS OF TWEETS
Your tweetstream should be a mix of different kinds of tweets.
Microblog.
The thing that immediately turns me off (and others) is a list of nothing but bullhorn or broadcast tweets. By that I mean tweets that aren't interactive and that, generally, nobody cares about, ESPECIALLY if you're just promoting your blog or your books.
These are the tweets that give Twitter a bad name ("I had a ham sandwich for lunch"). You're standing on a box and blaring out your message to whomever's passing by. Keep this to a minimum – and when you do it, treat it as microblogging. Be interesting, be amusing, be informative. Try to write things that other people are likely to relate and respond to, that might spark off a dialogue.
Remember that Twitter – as well as social media in general – is about connecting with people and providing value for others, not selling and promoting yourself. (Or rather: you sell and promote yourself through providing value for others.)
One fun or handy thing to do on Twitter is to ask questions. It's great for research purposes, or general personal interest, or to kickstart a new conversation.
Respond.
Talk to people. You respond to someone else's tweet by putting an @ in front of their username (so if you're tweeting me, you would tweet @justinemusk, I am astounded by your general wondrousness, although I wish your dog would stop barking). A tweetstream that is composed of many @ tweets is a sign that the user is interactive, conversational, and participatory. It's a good sign.
But when you are responding to someone, remember that other people can see your tweet. Include them in the conversation by providing enough context in your message so that a stranger can understand it. (If you want total privacy, send your message via Direct Message, otherwise known as DMs. Those are completely private, at least in theory). When other people see you engaged in a lively conversation that catches their interest, they're likely to check you out and perhaps follow you or join in the dialogue themselves.
Share.
These are tweets that include a link to an article, blog post or web page that you think people would find interesting. Since each tweet is limited to 140 characters, you need to use a URL shortener such as bit.ly. (again, easy).
You share as a way of curating cool content, so other people don't have to search for that stuff themselves. As the Web becomes more and more cluttered and fragmented, the act of curating becomes more and more important.
It's a good idea to limit yourself to a particular niche, so that people will know what kind of links to expect from you (and if they're interested in that niche, they will follow and possibly send you a note thanking you for your generosity and usefulness). For example, my links are generally writing-related, although every now and then I'll throw in something different (an article about cool and inspiring women, for example, or an interview with Seth Godin, or a link to an awesome nonprofit) but which still 'feels' like…me, the things I stand for and want to represent.
(Remember that, in social media, you are your content. This includes your links. Your content adds up to create your brand, which basically refers to everything that you stand for as an individual.)
You also share as a way to promote other people. Social media is all about the karma: put good stuff out, and get good stuff back. Promoting other people also allows you to promote yourself without being obnoxious, although you should promote others much more often than you promote your own work. Social media guru Chris Brogan has a 12x rule: for every time he promotes something of his, he promotes others 12 times. The important thing here is to be authentic. Don't provide a bunch of random links just because you want to meet your promote-others quota or because you're hoping that the person you're linking to will notice you and promote you in turn or feel like they 'owe you'. Promote what you're genuinely passionate about. People have a way of sniffing out fakery, even online.
Retweet.
Retweets are a crucial part of Twitter culture. A retweet is when you like a tweet so much, find it so amusing or helpful or provocative or brilliant, that you copy it and put an RT in front of the @username. For example, my last RT was this:
RT @KellyDiels "Out beyond ideas of right-doing and wrong-doing there is a field. I'll meet you there." – Rumi via @Lianne_R
By retweeting this, I'm investing this with my name and personality, so that even though I didn't come up with it, it's still saying something about me. I'm also paying a compliment to Kelly Diels, telling her that I really liked her tweet (a retweet is the ultimate Twitter compliment). Notice that Kelly, with the 'via' @username, is acknowledging that she picked up the quote from someone else, who didn't tweet it but maybe posted it in a blog comment or as a Facebook status update.
Retweets are powerful because they enable something to go viral. If you tweet something to your 25 followers – a link to your blog post, perhaps — and I happen to be one of them, maybe I'll like your blog post so much I will retweet it. So the link to your blogpost has just been exposed to my 3,200 followers. And maybe one of them will love it, and retweet it to their followers, and so on….Considering that there are people on Twitter who have 10,000 or 30,000 or 150,000 or 500,000 followers (or more, way more, way way more) you can see the potential. Retweets expand your audience.
FOLLOWERS/FOLLOWING RATIO
The number of people following you, vs the number of people you are following (otherwise known as your followers/following ratio) says a lot about the kind of tweeter you are, and it's something I notice when I check out your profile page.
If someone's follower count is massively higher than their following, it's generally a sign that they're a broadcaster. They're not conversing or engaging with people. Often this is because they're a celebrity – and so people hang on their every word, and actually do want to know what they had for lunch – or provide some kind of information service.
If someone's follower and following counts are roughly equal, it's a sign that they engage in conversation with the many instead of the few (and are likely to follow you back).
If someone's following count is massively higher than their follower count, it's interpreted as a sign that they're a spammer. AVOID THIS.
HASHTAGS and HASHCHATS
A hashtag is this symbol right here: #. People put it in front of a word or words, and use it when they want their tweet to be grouped with other tweets about the same topic. One popular writing hashtag is #amwriting. This means that if you click on #amwriting, you will be taken to a page(s) of tweets that all include the #amwriting hashtag and are about, presumably, writing.
In the column on the right side of the Twitter page, you'll see the TRENDING list. These are the most popular topics that are being discussed on Twitter right now. Many of them have a hashtag.
Hashtags allow for hashchats. A hashchat is what enables a large group of people to have an ongoing conversation on Twitter. Some of these hashchats are regular weekly features. For example, there is a hashchat called #askagent. This is your opportunity to ask the participating literary agents any questions you have about submissions, agenting, the state of publishing, etc. By including the hashtag #askagent in your tweet, you ensure that the agents (and anyone else looking out for the #askagent hashtag) will see it, and respond accordingly.
SEARCH
The 'search' box you see in the rightside column on a Twitter page can be an invaluable resource.
You can use it to find users who are interested in the same things that you are. I will use it to find people who are reading the same book or author that I am, for example – I'll enter LORRIE MOORE or A GATE AT THE STAIRS and enter into a conversation with someone about that book, or discover what other people are saying about it.
You can also use it to get up-to-the-minute information about, well, anything. Last summer I looked out my window and saw a wildfire happening in the near-distant hills (smoke, flame, helicopters, very dramatic). By typing in "Los Angeles wildfire" I discovered where the fire was (Sepulveda Pass) and who was being evacuated (The Getty Center) and when the fire department expected to contain it (a few hours). The news websites were about two or three hours behind the tweeters who were experiencing or witnessing the wildfire themselves ("it's getting smoky up here, I wish they'd put this damn thing out…").
One afternoon when I heard a loud, ripping explosion and felt the earth tremble, I rushed to Twitter. Within five minutes I knew that it hadn't been an earthquake, merely a sonic boom as the space shuttle entered the atmosphere one day late (due to bad weather). Relief.
LISTS
The Twitter lists function allows you to group the people that you're following according to whatever criteria you wish. For example, I made a cool publishing peeps list. When I click on it, it takes me to a page(s) of all the recent tweets from some of the people I follow in the publishing industry, so I don't have to sort through tens of thousands of tweets looking for them or click on each of their individual profile pages. This list is public (which means it's listed in my righthand Twitter column and anyone can check it out or follow it in turn). I also have a 'private' list of friends and family members that no one can see except for me.
Lists are a great way to discover new and interesting people to follow – and to do it in bulk (you can check out mashable's list of twitter stars for example). Find the people you're interested in, then check out their lists (in the right hand column) to find more interesting people to follow, either as individuals or as a group.
BLOG/FACEBOOK
Twitter drives traffic to my blog. My blog drives traffic to my Twitter stream and increases my followers count (and gives me new cool people to connect with).
But the most interesting relationship, I find, is the one between Twitter and Facebook. By enabling Facebook to pull in my Twitter stream, I allow my tweets to double as a series of Facebook status updates and spark off real-time conversations. A tweet that gets only one or two responses on Twitter might get five or six responses on my Facebook page and ignite an entirely separate dialogue. Different forms of social media lead to different kinds of conversations, or different versions of the same conversation. It's fun.
What are your experiences with Twitter? How do you use Twitter? What advice or information would you give to anyone just starting out with it? What else should be included in this guide?