why writing a manifesta can help you develop a creative vision (and sell more books and maybe even change the world)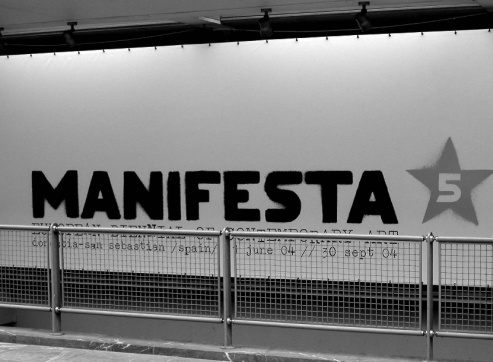 (note: I'm using 'manifesta' instead of 'manifesto' because I like the womanly sound of it. indulge me.)
One of my favorite bloggers, Kelly Diels writes a bang-up post about what she would do if she was a new writer named Dorothy who'd just published a book about her adventures on the yellow brick road:
So this book should sell. It needs to sell. Dorothy wants it to sell.
Even more than that, Dorothy wants it to be read, to land, to take root, to grow, to inhabit, fertilize and animate our popular imagination.
If I was Dorothy – and I am – I would start a blog before I even started writing the book. I'd go all Seth Godin and build a tribe on Twitter. I'd find my people. I'd give them somewhere to find me. I'd get on the cluetrain. I'd Oprah. I'd firestart. I'd listen to Leo Babauta when he says he doesn't believe in SEO. I'd make friends. I'd work the aich-ee-double-hockey-sticks out of ProBlogger and spend serious time with Outspoken Media. I'd figure out the lessons learned by our pantheon of blog gods and best-selling writers. I'd figure out the mechanics of demand and distribution and audience and I'd build it and they would come. And if they didn't come, I'd go get them and then hug and pet and feed them because that is the purpose of promotional tricks and lassos and rodeo ponies and hoopla.
But I would only do that if, like Dorothy, I had something wizardly to offer: the journey. The passion. The learning. The love. The living. The lessons. The magic. The really, really great content. Please.
Often, when we talk about writing, we talk about how to write and go about the business:  how to structure a novel and frame a scene and create characters and dialogue and find our theme and write our query letter and approach agents, etc.  And now, with the shifting digitalscape of publishing, we talk about platform and brand and how to blog and Facebook and Twitter and hang out in forums and make book apps and podcasts and video trailers and ebooks. We talk about giving stuff away for free and generating multiple streams of revenue.  We talk about True Fans.
We talk about what to do with the content.
We don't often talk about the content itself.
It's not enough to know how to say it.  You have to have something to say.
Writers now have to market their content (their books) with more content (everything else they do online).  Nonfiction writers have a clear advantage over fiction writers: if I'm marketing — or more specifically, unmarketing— a book about the Civil War, or how to develop your psychic powers, or how to breed and care for purple hamsters, then I can blog and tweet about things related to the Civil War or psychics or hamsters.
This is why nonfiction has always been easier to promote than fiction: a nonfiction writer could go on talk shows and radio shows and discuss the book with hosts who hadn't read the book by providing intriguing and educational information about the subject matter that would make listeners with similar interests want to buy the book.  That's 'content marketing' in action.  The marketing is done through content that in and of itself provides value: it entertains and informs.  The listener takes away some informational nuggets about purple hamsters and is a better person for it.
So great content has to be promoted with more great content.
But what should fiction writers blog, tweet, and content-market about?  Or what happens when that nonfiction writer comes out with a book that falls outside her established 'brand' (and never wants to look at purple hamsters again)?
This is where a manifesta comes in handy.
A manifesta is "a public declaration of principles, policies or intentions."  In this case, it's not of a political nature but an artistic one.  It is what you stand for and want to accomplish as a writer and blogger.  It is your creative vision presented as a set of ideas that will attract like-minded people (a.k.a. your "ideal readers") and power the conversations that you have with them and they have with each other (since you won't always be around).
REASONS TO HAVE A MANIFESTA
1. It forces you to soul-search and think strategically.
Media coach Susan Harrow said, "Words are the ambassadors of our intentions."  Just the act of composing your manifesta forces you to examine what those intentions actually are…and how you want to make them manifest.
There is a real power in writing things down.  (Here's an entire book about it.)  It orients your mind to the future and acts as a filter for incoming stimuli so that you zero in on the things and events and people that can help you move forward.  Suddenly you're writing and working with purpose and strategy.
And this includes your time online.  As anyone who engages with it quickly learns, social media can be a massive timesuck with little to show for it if you don't know what you're doing and why you're doing it.  To be truly effective, social media requires a strategy. Your manifesta helps you look beyond the tools and technologies to the principles behind them and how they might serve your vision.  Your manifesta cuts a path through the social media jungle. This makes social media itself less overwhelming.
2. It establishes your brand in your own mind and in the minds of others.
A few words about 'brand'.  You might be thinking, This is the kind of thing that makes me despair utterly because you, after all, are you.  You are not a pair of sneakers.
But in the online world, a brand is your identity.  It is the shared mental imprint that others have of you.  It is their sense of your personality and set of values. Picture a much more complex and sophisticated version of your icon or gravatar that walks around the 'Net and grows or shrinks according to the conversations that people have about you (or if they're having conversations at all).
A good brand allows people to feel that they know you, and online, this is a good thing.  After all, anybody can say they're anybody on the 'Net — at least initially (you can only hide behind another identity for so long).  The more you reveal yourself online — with care and intelligence, of course — and the more transparent your brand becomes, the more people will trust that you are who you say you are and do what you say you do.  If they trust you, they pay attention to you.  If they pay attention to you, you have influence.  This is a very good thing.
In the old, offline world, a brand was a fixed controlled message beamed out to the masses in a one-way direction from the television and the radio.  In the new, online world, the 'message' of a brand is neither fixed nor controlled.  You can't control the conversation that other people have about you.  You can only hope to steer it in a certain direction….
3. It steers the conversation
…and a manifesta helps you do this. When you know your manifesta, you'll know what you want to write about and the kinds of conversations you want to have.
4. It helps you develop your brand in a natural and organic way.
Conversations are not static, so your brand isn't either.  Through engaging and interacting with people — and through listening, listening, listening — you can 'grow' your brand in new dimensions. This is the idea of the brand molecule: one idea growing naturally from another idea. The brand molecule can become complex and multifaceted while still retaining that core sense of identity or 'message' that unifies everything into a whole greater than the sum of its parts — instead of just a random collection of parts.
For example, a key part of my own manifesta (which I'm still working on) involves making the world a better place for girls and women (which makes the world a better place for everybody).  I plan to one day fund a school for girls in Cambodia (and write and blog about the experience).  This might not seem like it has anything to do with my published novels and short stories, except one thing I hope to accomplish in my fiction is the creation of strong, complex female characters who wrestle with issues that other girls and women can relate to (even if their own lives don't involve magic and fallen angels and the god of the underworld and that kind of thing). So my manifesta connects these two different ideas — my dark fantasy novels and the education of girls in developing countries — and shows the relationship between them.  My writing, my activism, and my use of social media, my 'unmarketing', can all be different parts of my brand molecule and work toward the same overarching goal.
5. It galvanizes you and pulls you forward.
Developing a successful writing career is a long and arduous process with no guarantee of success (far from it).  You're required to develop your craft and your platform.  Both these elements demand a heavy investment of time, emotion and energy.
You will get rejected.
You will make mistakes.
Not everyone will like your work or your 'brand' — some might even loathe you and everything they think you stand for.  You'll get bad reviews.  You'll find negative comments on your blog.  There will be moments when you'll want to say "to hell with it all" and curl up in a fetal position.  You might start to think about law school.
So how to stay motivated?
In his book DRIVE: The Surprising Truth about What Motivates Us, Daniel H Pink states that we are actually not all that motivated by external awards (the whole carrot and stick approach).  Sure, we want that raise, but what powers us in the long-term and is the real key to high performance and satisfaction
is the deeply human need to direct our own lives, to learn and create new things, and to do better by ourselves and our world.
You'll know your manifesta is on target when you feel that deep sense of excitement in your core.  Your manifesta is ultimately a statement about passion.  Reviewing it when you're low or discouraged can help you reconnect to that sense of passion and purpose that compelled you to start doing what you're doing in the first place.  It can remind you that Rome wasn't built in a day — or a year — but the damn thing did get built.
After all, it's about the journey, not the destination (or not just the destination).  Your manifesta keeps your eyes on that magical skyline in the distance.  It gives you energy to navigate the roadblocks.  It helps you find your way back to the road if you should wander off somewhere (or get lured in the wrong direction).
6. It turns a random audience into a genuine tribe.
The Internet has changed the idea of what an audience is. No longer a passive vessel for the entertainment that you provide (or at least attempt to), the people formerly known as the audience expect to have a voice of their own.  It is their right to talk back to you and to each other.  Your content becomes the great connection point.  But it has to be a connection point: something that is worth their time and conversation.  The most powerful content of all is content that inspires people and impacts their sense of the world and their own place within it.  No small task, I know, but the good news is that if your manifesta inspires you — and if it doesn't, it's the wrong manifesta — then it will likely inspire others.
7. It organizes all your content into a unifying whole greater than the sum of its parts.
see #4
8. It just might change the world.
— next up: how to write a manifesta —