Ten Things That Make You Interesting (how to develop your own interestingness, part two)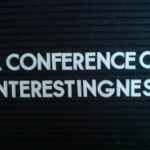 You can define
interestingness as "the quality or condition of being interesting" (duh!) or, perhaps more importantly, "the ability to hold one's attention." We all want to be interested and interesting. In her book FASCINATE, Sally Hogshead refers to a study that demonstrates how "people would be willing to pay almost a week's salary to be the most fascinating person in any situation." And in today's increasingly cluttered and hypercompetitive environment, the ability to get and hold someone's attention is more important – and valued – than ever.
But getting beyond the dictionary definition, what is interestingness, exactly? Here is an attempt to break it down.
1. It adds value in unexpected ways.
Interestingness gives us something we often didn't even know we wanted or needed (did you ever know that you needed an ipod before ipods were invented?). It goes over and beyond. It indulges us. It enriches us. It makes us look at things in a new way.
The New York Times mentions a study in which social scientists examined the qualities that makes stories go viral (ie: people find the most interesting and share and email with others). Some of the results weren't surprising: positive stories were shared more often than negative stories, and stories that evoked emotion were more popular than stories that did not.
But the most popular stories were awe-inspiring, which the researchers defined as "an emotion of self-transcendence, a feeling of admiration and elevation in the face of something greater than the self." A story qualifies as "awesome" when it requires "mental accommodation" by forcing the reader to view the world in a different way. It "involves the opening and broadening of the mind."
2. It has depth.
When something shocks us, the thrill is intense – and then gone. For something to actually maintain our attention, it has to give us reasons to do so. It has to keep adding value.
Guy Kawasaki in RULES FOR REVOLUTIONARIES makes the point that one of the characteristics of a truly great product – an interesting product – is "depth", because the product "grows with you":
Indeed, a savvy consumer will buy a product or service that, although too deep initially, will allow for future growth as the user becomes more sophisticated.
Two of my favorite novels are Margaret Atwood's CAT'S EYE and Siri Husvedt's WHAT I LOVED. The books are compelling and entertaining – but they also have depth, so that when I reread them, I discover an added layer of meaning. I move into a more sophisticated – and rewarding – understanding of the novel. Movies like THE SIXTH SENSE and THE USUAL SUSPECTS drew people back to the theatres for a second or third viewing because they weren't just entertaining but interesting: knowledge of how the movie ends allows you to appreciate the hints and details that you missed the first time. The story grows with you. Getting past the surface appeal isn't the end, but the beginning: there's a whole little universe to explore.
3.It's authentic.
You can't fake depth – or at least, not for very long. And in order to maintain attention, you have to maintain that person's trust: when the trust is gone, so is that person's attention. A fake, contrived interestingness is actually not interesting at all.
Interestingness is authentic when one idea emerges naturally and organically out of the next. It's not just a hodgepodge: it has coherency and meaning. Kawasaki points out that an interesting product has "an honest use of materials": materials are used in a way that has logic and sense. A computer "made out of wood" might be a novelty item, but it does not have interestingness, because it doesn't make sense. It's not authentic. Likewise, the twist ending of a movie like THE SIXTH SENSE only works because it emerges honestly from the story, which is why a repeat viewing is rewarding. If the ending was a 'cheat' – if the filmmaker hadn't prepared the ground from the beginning, weaving those hints and details, integrating them into the story, the movie would have made us roll our eyes.
4.It has focus.
Spread yourself too thin, and you – spread yourself too thin. And thin is the very opposite of deep. In his book HOW TO BE A HIGH SCHOOL SUPERSTAR, author Cal Newport talks about how students with genuine interestingness will list two or three extracurricular interests; students who are not so interesting will list six or eight or ten. But the latter approach only kills that student's credibility, because deep knowledge is interesting. Expertise is interesting. Surface knowledge – which is easily acquired — is not. Engaging in ten wildly different interests smacks of contrived interestingness, because it indicates a lack of real depth in any of them. Depth requires time, focus and commitment.
In my post 5 Ways to Put More 'Soul' Into Your Writing, I refer to one script analyst's observation that
"A level movies had approximately 10 to 20 scenes total and B-level movies had 35-60 scenes total. This happened in every single case. Some A-level movies are now three hours long, but even so, the better movies just don't have as many scenes as the lesser ones do. The writers of the B movies were trying to do too much, switching scenes to try and make it seem as if there were a lot of action or drama taking place. They didn't use the scenes they had to full effect. They didn't use the opportunities for action and drama that were right in front of them. "
Some writers will try to maintain interest by throwing everything and the kitchen sink into a story or screenplay. Their work suffers from too many scenes, too many elements, too many ideas – or, to quote a line of dialogue from the movie AMADEUS, "too many notes!" The good writers choose only a few ideas, and develop them with clarity and focus. They follow an idea all the way to its end. They allow it to develop true interestingness.
— to be continued —